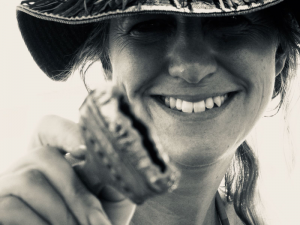 URSULA MINARIK,
born 26th November 1971
"Color in certain places has the great value of making the outlines and structural planes seem more energetic."
(Antoni Gaudi)
On this planet, people mostly communicate with words, but I converse through the colors of my artwork. The most beautiful thing is to leave inspiration or a message for the observer of my paintings.
My work tends to focus on people in action. Life is action and without action life does not take place. That's why I describe movements of body and soul by using intense colors. The activities I am searching for I often find in faces. Faces are for me like a TV-screen – colorful, exiting, full of stories and action.
Every time I start my work, I create a relationship between colors, the chosen passion as well as the subject.
Most paintings are made on canvas with acrylic colors, applied in different ways to produce a transparent or opaque effect. The variety of opaque and transparent colors is essential to describe movements in my pictures. Depending on the purpose, the painting was carried out usingbrushes of varying thicknesses – broader brushes for background and clothing, finer ones for delicate detailing. If it is necessary to point something out mixed media (spray, crayon, pigments and others) are used. The dimensions of artwork are mostly bigger than 100 x 100 cm.
Each painting is unique just as the impression of each viewer is unique.
E x h i b i t i o n    H i s t o r y
2024
"NUDES"- solo exhibition in Pop up Gallery in Bad Fischau 19.1.-28.1.

Generation – group exhibition im Haus der Kunst in Baden 5.4.-15.4.
2023         
"Living in the box" – Art Expo Basel 2023, Galerie Artboxy Art Contest 6/23

3 Generationen-Ausstellung" – Falkenstein in the context of "Wein-Kunst-Kultur"

"AKTuelles" – group exhibition, Galerie Kras in Wien 2.10.23

"Faces" im Rahmen des Charity Events zugunsten von "Licht ins Dunkel" veranstaltet von Autohaus im Schloss Esterhazy, Eisenstadt 3.11.23

"Living in the box"- soloexhibition, Galerie Kras in Wien 6.11.23
2022         
"Eigene Sicht der Dinge" – Berufsvereinigung der bildenden Künste Schönbrunn 11/22-1/23

"Snap Shot" – Public Artist Gallery 11-12/22

"Charity Aktion" – Dorotheum & Albertina in favor of Verein auf Augenhöhe, Vienna 11/22

"Aqua-Akt" – Kunst und Kultur, Falkenstein 9/22
2018         
"Zeig mir wie du sprichst und ich sag dir wer du bist", Brenner & Company, Galerie Vienna 10/18

"Farbexplosion" – Galerie Vienna 11/18

"Dauerausstellung" – Augenarztpraxis Dr. Stappen, Vienna bis 3/18
2017
"Jamais-vu" – UNIK.at Gruppenausstellung, Vienna 5/17

"Ursprung von Kraft" – Parkettista, Vienna 5/17
2016         
"Colosseum Award" – Palace Brancaccio, Rome 5/16

"Malzeit" – Baden near Vienna 5/16

"The space in Art New York" – Sia Art Gallery – New York 9/16

"Salon Art Shopping" – Cannes 12/16
2015         
Group exhibition "Together Again" – Titko Galeria Budapest 2/15

Art fair "Artshopping" – Carrousel du Louvre, Paris 10/15

"Three-generation exhibition" – Artopia, Galerie Vienna 11/15
2014         
"moments-movements-monuments" – Gekko IT-Solution GmbH, Vienna

"moments-movements-monuments" – NÖ offenes Atelier, Falkenstein
2013
"faces" – "NÖ offenes Atelier" in Falkenstein
2012         
"people in motion" – Volksbank Baden/Vienna

"people in motion" – Austrian Academy of Certified Public Accountants, Vienna

"Pinsel trifft Farbe" (brush meets color) – NÖ offenes Atelier", Falkenstein
2011         
"farbe ist leben" (color is life) – Falkenstein in the context of "Wein-Kunst-Kultur-Festival"
2010         
"fair ART 2010" – Tribuswinkel Castle

"people in motion" of paintings in the context of contemporary art – Zeichenfabrik in Vienna
2009         
"Farb" (color) – Falkenstein in the context of "Wein-Kunst-Kultur"

"Frauen in der Wirtschaft – Frauen in der Kunst", Chamber of Commerce in Mödling
2008         
"fabelhafte Momente" (marvellous moments) – Falkenstein

"Rose und nicht Mimose" (rose and not mimosa), Chamber of Commerce in Mödling
2007         
"mit und ohne Huhn" (with and without chicken) – Falkenstein

"Real i tät" (reality check) – Heimathaus, Brunn am Gebirge
2006         
"Portrait" – Zentrum Gwölb, Vienna

"Portrait" – Orthopaedic Hospital, Speising
2004         
Pictorial accompaniment of "patchwork fm" album release, Planetarium Vienna

"people" – Falkenstein in the context of "Wein-Kunst-Kultur"
2003         
"aufmüpfig und angepasst " (rebellious and adjusted) – Kirchstetten Castle
BORN TO PAINT THE PEOPLE AND THE WORLD AROUND ME
"If you could say it in words, there would be no reason to paint"
Edward Hopper